BABIES
OK! Interview: Kiran Chetry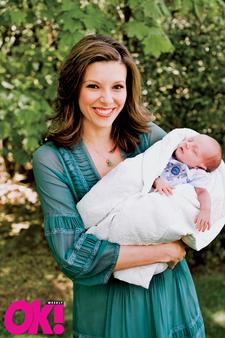 Baby bulletin: CNN anchor Kiran Chetry's a mom again! The American Morning host welcomed her second child, Christopher Chetry Knowles, with her husband of eight years, CW11 weatherman Chris Knowles, on April 17. "Holding Chris for the first time was surreal," Kiran tells OK!. "You're filled with awe." The birth was away from the hustle and bustle of New York City as the family, which includes daughter Maya, 2, retreated to the quiet countryside in Westchester County, N.Y. to welcome baby Christopher -- and that's exactly where OK! caught them delighting in being a new foursome.
Article continues below advertisement
What went through your mind when you first held Chris in your arms?
Kiran: It was a surreal moment. You're filled with awe that you created this baby. The second thing that went through my mind was that he has big blue eyes and blonde hair. I was like, "Is this one mine?"
You had some complications during birth?
Kiran: Right before the delivery, he turned breach, so I had a C-section. It was a little scary.
Chris: I was in the hall, and they said, "Get your scrubs on -- we're ready." They handed Chris to me, and I thought, "He looks just like me!"
Was this pregnancy harder than your first?
Kiran: It was easier because I already knew what to expect. When you're running around after a 2-year-old, you don't have time to feel sorry for yourself. I gained about 35 pounds, but I was running after Maya, so I was in much better shape this time.
Article continues below advertisement
Were you excited to learn you were having a boy?
Kiran: I found out at 12 weeks. I made them make me a picture and put it in an envelope. I gave it to Chris, who was sure we were having a girl. Then he opened the envelope, saw that it wasn't and started to cry.
Chris: Kiran pointed to what she said was the "business" on the ultrasound picture. To me, it just looked like another white spot!
We hear Kenny Chesney sent you a gift.
Kiran: He sent a beautiful Moses basket with fluffy blankets, an organic outfit and crocheted cowboy boots. He's my buddy, a total sweetheart.
For more on Kiran, check out her gallery and pick up the latest issue of OK!, on newsstands now!