BABIES
OK! Interview: Kristi Yamaguchi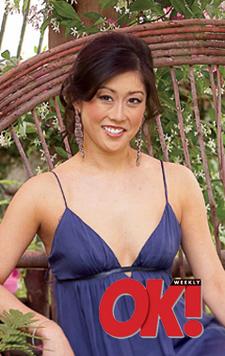 Whether it's on the ballroom or on the ice, Kristi Yamaguchi has proven to be as elegant as ever. The Olympic gold medalist and is now three dances away from claiming another trophy to add to her mantel -- the Dancing with the Stars Mirrorball. But before she and Mark Ballas hit the floor for one last dance, the 36-year-old, who has two daughters, Keara, 4, and Emma, 2, with Carolina Hurricanes' Bret Hedican, kicked off her heels to relax with OK!.
Article continues below advertisement
What have you enjoyed most about DWTS?
It's fun to push the body again and learn how to dance. I've showed that I could still go out there and do it.
Where will you put the trophy if you win?
My husband and I joke that we can put it next to his little mini Stanley Cup. He has a replica that they give the players after they've won. My gold medal is in the U.S. Figure Skating Museum in Colorado Springs. They have a display with skaters' medals, costumes and skates. It's nice to share it with other people.
Describe your style.
Feminine. Summer is my favorite season because of the flowiness of the fabrics. I live in sundresses!
Who are you favorite designers?
Lately, I've been into Rebecca Taylor. She's really soft and feminine. Also Robert Rodriguez, Nanette Lepore and Moschino.
What's been your biggest fashion mistake?
In the late '80s, I was into the whole Madonna look -- the little lace leggings, the gloves and my permed mall hair, teased and sprayed!
Article continues below advertisement
Before DWTS, did you have a fitness routine?
No, not at all. Once in a while, I'd get to the gym and do the elliptical, but it wasn't consistent at all. Once I found out I was doing the show, I started Pilates.
What's the best part about being a mom?
My kids ground me. When you're a mom, you're so excited to get sleep, but I can't wait to get up in the morning and see them.
Do you want more kids?
We were seriously think about it. Then the show came along. We're both open to it; both of us would love a little boy.
What's made your relationship with Bret work?
We understood each other's lifestyle. He was right in the middle of his NHL career and traveling, and I was right in the middle of my professional career and on tour most of the year. Our personalities are compatible, too. He's more social than I am, but you need that -- the yin and yang -- to make it work.
What will you do once the show is over?
Take a break and be with my family, chill out. In July, we're planning a family vacation in Hawaii. I know my kids are missing me.
For more on Kristi, check out her and gallery, and pick up the latest issue of OK!, on newsstands now!