BABIES
OK! Interview: Robin Thicke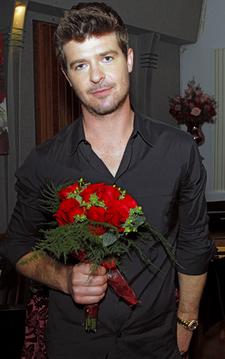 There can't be many better authorities on good lovin' than silky smooth soul man, Robin Thicke.
So at a pre-Valentine's Day party thrown by 1-800 Flowers, OK! talked to the Lost Without U singer about the perfect February 14th, some of the most romantic treats he's given his wife — actress Paula Patton — and the couple's baby plans.
You seem like a pretty romantic kind of guy. If you were arranging the perfect Valentine's Day what would you do?
Article continues below advertisement
What I've learned is just to make sure the day is not like any other day of the year. You can't just take her to the same restaurant you always go to. That won't work.
And don't take her to do something that you like to do yourself — like a ballgame. That's for sure!
So what's the most romantic Valentine's Day thing that you've done for your wife?
I find that I do things every few months that are Valentine's Day-worthy. So it's hard for me to find one on Valentine's Day because I'm always taking her on trips or buying her little surprise gifts.
But I remember one Valentine's Day she was filming. We couldn't be together so I sent her a box of like 50 different gifts. Kama Sutra stuff: candles, lingerie, chocolate, a brand new computer, an iPod — everything I could think of to tell her how much I loved her from far away.
And how did she respond to that?
She liked it! She did the same thing for me next year.
How does the love in your life inspire your music?
Well, I mean my lady inspires everything I do. When I met her, the reason I wanted to be with her is because she made me want to be a better person. And when you have somebody to answer to that you want to answer to, that's what love is.
Are you planning a family?
You know, a couple more years of selfishness and then we'll be ready for some kids.
By Oliver Coleman