BABIES
OK! Interview: Willie Aames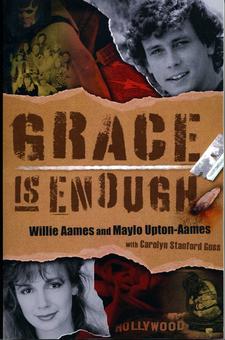 It all seemed too familiar for Willie Aames. The drugs, the drinking, the alcohol, the promiscuity, the rehab — he's been through it all before, and now he's going through it again, through other people.
"With all of the stuff with Lindsay Lohan and Britney Spears," he tells OK!, "I really wanted to try to relate to people what it felt like emotionally to grow up very successful in the business."
Not to mention, live a life of excess.
Article continues below advertisement
A former child star, Willie rocketed to teenage idol-dom on two classic series, Charles in Charge and Eight Is Enough, but fame and fortune weren't enough for him. The curly-haired actor fell victim to, literally, sex, drugs and rock 'n' roll for years, finally coming clean in the mid-'80s. His struggles — which culminated in finding God — is chronicled in his new memoir, Grace Is Enough, co-written with his wife Maylo Upton-Aames, who shares her own tales in overcoming her traumatic past in the book as well.
With young Hollywood's recent troubles, the tome takes on a deeper meaning. Willie hopes his journey to hell and back can shed some insight on what Lindsay, Britney & Co. are going through. More importantly, he wants to let everyone know that it's not necessarily Hollywood itself that's at fault.
"I get so sick of people blaming Hollywood," he says. "There isn't a studio executive I've met or know now that wants to see an actor or an actress turn out that way and they're not passing out drugs. The fact is that we learn about them from a party in high school or someone else's party, anywhere but on the set. We may take it on the set with us, but it rarely starts there."
Article continues below advertisement
Actors and artists in general are just predisposed to addictions, he believes.
"I think there are people that have very addictive personalities," Willie says. "I think people who are artists, actors, singers, great songwriters, they tend to have a hyper state of emotion where they feel things very, very deeply, probably more deeply than the average person walking down the street where it may affect them, but not to the same extent."
For Willie, drugs, booze and the ladies came all too easily and too often. He speaks of trips to Venuezuela, where he was "just doing a ton of coke because they were making it right down the road so it was cheap," and having to rent a closet to live in after losing his house and car, which he calls the low point of his life. The actor, who also rocked out as a musician, sought to change his ways in 1984, shortly before Charles in Charge hit the airwaves.
Article continues below advertisement
Though it was uncool to seek help at the time, Willie, now 47, attended AA meetings and was on-and-off clean for about six months. It was during this time that he met Maylo, a teenage runaway who grew up in a physically and sexually abusive home. Living on the streets for years, Maylo turned to a life of drugs too, but eventually got clean for Willie. They could've easily been in a co-dependent, enabling relationship, but that was not the case. In Maylo, Willie found his soulmate and believes their joint journey to happiness, Christianity and sobriety is one for the ages.
"The chances of Maylo and I meeting were so miniscule because while I was riding around in limousines and eating at the White House, she was sleeping in burnt-out buildings and eating out of trash cans," Willie says, adding that was the overriding reason for writing Grace. "We just never should have met. To me, the important part is that when we did meet, we discovered that it didn't make any difference what our backgrounds were, we both understood the same emotional pain — we both knew what it was like to be a broken person. As a result of that, we really bonded and were able to break that chain of abuse, or that chain of lack of encouragement in our families that brought us to this point."
Article continues below advertisement
Together, they also rediscovered their faith. After hearing "this guy on the radio, it was like a comedian holding an AA meeting," Willie and Maylo checked it out at a church and ended up getting way more than they were expecting — "hope for a better me."
They got baptized on March 15, 1986, and married that evening.
Coming up on their 22nd wedding anniversary, Willie and Maylo, 46, are stronger than ever. The secret to their happy marriage is communication.
"We talk constantly," he says. "There is no other person on the face of this planet that I would rather sit and talk to than my wife. To the extent that it's really ticked off people I worked with. If one of us told the other to shut up, we'd just be devastated, we just don't do that. We automatically assume that if your feelings were hurt it was done unintentionally. Also, there's no competition and I think that's important. "
Article continues below advertisement
The couple has a daughter, Harleigh, 17, and Willie also has a 26-year-old son, Christopher, from his first marriage, whom he talks to every day. The family reside in Kansas City, a deliberate choice to escape the glitz and glamour of Hollywood.
But it's not like he doesn't go back to visit. After participating in Celebrity Fit Club 2, Willie returns this March in Celebrity Fit Club: Boot Camp, an intense, Marine Corps-style training program, where he promises, there will be some "truly amazing changes."
Also in the works are another book, titled Moral Turpitude: The Fall of Modern Christianity in America, aimed to shed a different perspective on Christianity and a yoga DVD with Maylo. A second book written together may be in the cards too, but for now they're just enjoying sharing their tale of survival.
And so, as a survivor, does he have any advice for the stars of today?
"Lindsay, she's very talented, but she's a fighter," Willie says. "I know she's going to make it through this. It may take a little while, but she's talented and she's going to make it through this. "
And Britney?
"It's really hard to say," he admits. "It's just getting away from her."
By Joyce Eng