BABIES
Pete and Ashlee's Unlikely Love Story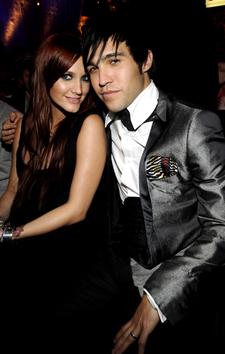 Who knew that a nudity scandal and a lip-syncing debacle could end happily?
Pete Wentz admits that when cell phone pictures of his nether regions hit the Internet, now-wife Ashlee Simpson knew just how to help. "Penisgate," Pete's phrase for the incident, helped get the couple together – Ashlee had just been through a whirlwind of publicity for lip-syncing on Saturday Night Live and could relate.
"She just called me up and made me feel a lot better," he tells Details in the December issue.
Article continues below advertisement
Beyond any genitalia love story, Pete's feelings for his wife run a lot deeper than any tabloid buzz.
"I've had a thing for that girl for a really, really long time," he admits.
And now that love has expanded to welcome new son Bronx Mowgli Wentz, a baby whose arrival was announced to Pete via a snapshot of a pregnancy test while he was on tour, waiting to play a show in Antarctica.
"I was like, 'Oh my God, this might be the worst possible time to have this conversation,'" he says. "I was definitely scared, just thinking, 'This is something that's going to exist for the rest of your life and you can't f--k it up. ' "
Although the pregnancy was unplanned, Pete has no regrets about his little bundle of joy.
"It was a happy accident," he says. "But I think that certain things happen for a reason in your life, and maybe it was time to put the wild child in a cage."