BABIES
Rachel Weisz, Fiance Teach Son To Joke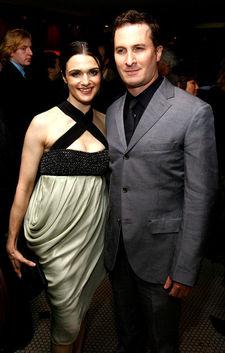 Rachel Weisz is lucky to have the adoration of her director fiance Darren Aronofsky. The couple are parents to son Henry, 2.
"He's amazing," Rachel, 37, says. "He's so cute."
Their little guy has a naughty side.
"He does R-rated jokes in G-rated language," Darren, 39, says. "I was talking to him about knock-knock jokes. I said 'knock-knock,' and he said 'who's there?' He thought for a while, and then he said 'the doorman.' I said 'that's very good – the man at the door.' I said 'the doorman who?' And then thought for awhile and he went 'the doorman ca-ca.' Pretty good! He did his first poo-poo joke, so Judd Apatow – watch out, here comes Henry."
Article continues below advertisement
Why are the parents perfect together?
"I think we both respect each other's work, we're both inspired by each other's work, we both enjoy each other's company. Plus, she loves my mustache, so that's good, and she's hot. All my friends from high school can now shut up."
As for wedding plans?
"Not yet," Darren says. "We're waiting for something special to come along. One day it will happen – hopefully."
Perhaps Henry will be able to play the piano when the time comes. "I try to sit him down and get as much of it done."