BABIES
The Readers Have Spoken!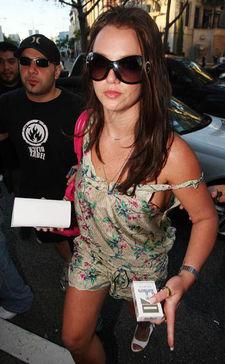 As Ryan Seacrest says, "The results are in!"
OK! has crunched the numbers on today's polls, and this is
what you – yes, you! – are currently thinking, loving and hating.
Despite his earnest attempts and unyielding work ethic, Dallas Mavericks owner
Mark Cuban got the ax on Dancing With the Stars
last night, which nearly 60% of you predicted. Good job! And having
seen the results, you're feeling even more ruthless — with more than
Article continues below advertisement
80% of you happy to see the billionaire bounced from the show.
You remained almost as passionate when it came to Shiloh Jolie-Pitt's
jet-setting ways. OK! took a peek inside the 1-year-old's hectic travel schedule and over 70% of readers feel Brangelina need
to stay put for a change.
Speaking of change, more than half the readers said Britney Spears shouldn't get any time with her boys
until she wakes up and smells the coffee. However, nearly 30% of you feel the
MORE ON:
Sacha Baron Cohen
opposite because, hey, she's their mom, you say! What a tight race!
You were also divided on Jessica Simpson's venture into country music. OK! reported
that the buxom blonde has landed in Nashville
to record a country album. 55% of you say it's a terrible idea, while
45 % say "Ride 'em, cowgirl!"
And while Jess settles in Nashville, Jennifer Aniston is settling down on-screen with Woody Harrelson in Management.
But only a third of you want her to find hubby No. 2, while nearly
two-thirds of you are unsure. One thing's for certain though — no one
wants to see her single!
Lastly, OK! exclusively confirmed the name of Sacha Baron Cohen and Isla Fisher's
daughter today. It's Olive. What did you think of the moniker? 50% of
readers are indifferent, while the other half are gagging at the name.
Click HERE to vote on all the polls.