BABIES
Rebecca Romijn's Secret to Shedding Baby Weight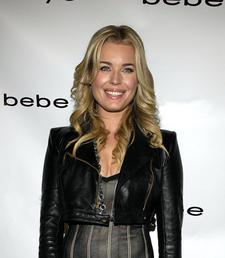 In addition to keeping up with your baby, the hardest part of being a new mom for any woman is shedding those extra pregnancy pounds. Well, Rebecca Romijn has a secret workout that's allowed her to rid herself of almost all 60 lbs. she put on while waiting for her twin daughters to be born — nothing!
"I think within the first three weeks, I took off like 35 pounds without doing anything!" Rebecca tells Extra in her first interview since giving birth to little girls Charlie and Dolly. "I haven't been able to work out that much because I have twins. It's impossible to get back into a regular schedule."
Article continues below advertisement
And just like Angelina Jolie, Rebecca says that the one thing that has helped her lose weight is to keep her daughters well fed. "Breastfeeding is the very best diet I've been on," she reveals. "It's amazing. It's like you have to eat 5,000 extra calories a day or you can't produce enough food for them."
While the actress and model has a body that any new mom can envy, she's being realistic about her expectations: "I'm not pretending to be back to the shape I was in beforehand anyway. I still have a ways to go…We've got Spanx underneath almost everything."
So does Rebecca have any problems telling the twins apart from each other? "No because they look completely different," she explains. "One looks just like Jerry. Her name is Charlie and the other one looks just like me. Her name is Dolly. She's a blonde and Charlie is a brunette and I think they are both just gorgeous."
Be sure to watch Extra tonight and Friday to see the full interview!