BABIES
Reese, Nicole, Shania Wow During CMAs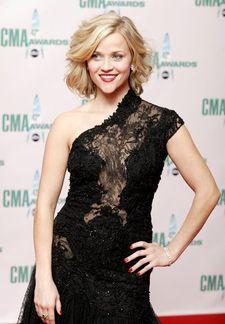 I'm stationed near Maureen McCormick when I jet down to Nashville for the CMA Awards held at the Sommet Center. Woo-hoo!
Reese Witherspoon is radiant in red lipstick – shockingly gorgeous – but doesn't answer when a reporter asks if she likes country music. Does she stay in a hotel when she's in Nashville? Nah, she's staying with her family. Nicole Kidman swans in with hubby Keith Urban, but steps back because she's letting her hubby "enjoy his night." Here's Shania Twain, looking glam – and blonder – than I remember. Nice!
Article continues below advertisement
Energetic Miley Cyrus stops to chat, and her kind dad Billy Ray takes a photo of her limelight-loving boyfriend Justin Gaston with fawning female fans. Hahaha. And Taylor Swift is wearing 30-pound dress! "I cannot even believe I was able to walk to the red carpet," she says. "Try to lift it up. It's so heavy. It's like wearing a bag of rocks, but I really like it, so I'm proud to wear this bag of rocks."
Kellie Pickler has BFF Taylor's back when it comes to boy troubles. "She's like my little sister, so I'm very protective of her," Kellie tells me. "She definitely comes first." Now that Taylor is getting over the heartbreak of her relationship with Joe Jonas, Kellie is there as she finds a new man. "She just needs someone who is very respectful and understanding of her career," Kel says. "You know, it's very time-consuming what we do, so you need someone that's confident and secure and just a good person. Just respectful."
Article continues below advertisement
Dancing With The Stars performer Julianne Hough is out and about since her surgery for endometriosis. "Oh, I'm fine," she tells me. "I'm honestly better than new. I feel great, and like I said, better than I felt before I even went in for surgery." Her boyfriend, Chuck Wicks, was there through it all. "It was easy," he tells me. "We rented a bunch of movies and we sat on the couch and ate popcorn. And we got a little puppy. Puppies can cure everything. Between the movies, popcorn and the puppy – and her mom was there as well –she recovered pretty quick. It was two weeks, and she was back on the dancefloor doing her thing." (Bummer! She's now off the show.)
What's Reba McEntire's pre-show ritual? "I just make sure my dress is correctly in place, I've got lipgloss on and I get onstage," she says. "I am not that good at practical jokes, and they always think of better -- or worse ones – than I can."
Dancing With The Stars/Hannah Montana star Cody Linley is here to support Julianne and see Miley, but he's also getting back to his roots. "I actually lived in Columbia from the ages of two to four. I don't remember much of it, but to see autumn and see what Nashville is all about and remember again is cool." Sadly, he's off the show, too, which is unfortunate considering he had the will to win. "I was just going to say that my birthday's November 20, and November 25 is the finale of Dancing With The Stars, so it would be the best 19th birthday present a boy could get to have a mirrorball trophy. Man! Winning right there. That's my hope." Aww!
Article continues below advertisement
American Idol finalist Diana DeGarmo is thinking of Paula Abdul in the wake of the tragic fan incident that occurred outside her home. "Paula's a wonderful person and she deserves great things," Diana tells me. "She's got a great personality and that's a horrible thing to have to deal with. She's in my prayers -- definitely."
Miranda Lambert confesses she's a big eBay shopper whose maximum bid is $100. "I'm cheap." Does she get upset when she's outbid? "Yes, I do. I take it personal." Sugarland's Jennifer Nettles can't wait to dress warmer. "I'm too excited about winter coming up," Jennifer says. "I'm into the layered look."
The Little Big Town girls are in awe of tourmate Carrie Underwood. "She has the best legs in the business," Kimberly Roads says. Karen Fairchild adds, "She's a super-disciplined person, so she eats well and she exercises every day. We're like 'oh Lord, we've gotta up our game. In the gym!'"
Here's Hootie and The Blowfish singer Darius Rucker. What's the best marriage advice he's received? "My wife is always right," he laughs.
Article continues below advertisement
Lady Antebellum take time to reveal their heights – Charles Kelley, 6'6," Hillary Scott, 5'9," and Dave Haywood, 6'1" – on the red carpet before they're shocked by their big win for Best New Artist. They brought their moms as their dates.
"When I was younger, I didn't attend the CMAs when mom Linda Davis won the CMA with Reba, but I was her date for a couple of different CMA Awards," Hillary says. "For her to be here tonight as my date, and for her to have this crystal trophy on her shelf at home in the house I grew up in, and for me to be taking one home tonight is just crazy. She's so proud. There's nothing better than sitting there when the nominees were being read off and holding my mama's hand. Knowing that she knew exactly what it felt like. We were so lucky to have our moms here. We wouldn't be here if it wasn't for them."
Charles adds, "They were crying their eyes out."
PRESS ROOM: "I've never seen so much of Brad Paisley," cohost gushes about his quick change backstage. The 45-second strip is also a highlight for Brad. "I was still getting dressed walking out," he says. … Kenny Chesney, who has the hots for , challenges Sugarland to take his Entertainer of the Year Award next
year. … Rascal Flatts singer Joe Don Rooney calls fatherhood "amazing." He says, "To be a father is just a big piece of that puzzle now that's going to carry us on through the years."
PARTY TIME: I catch Gretchen Wilson on her way inside the venue, Taylor Swift in the elevator at the Big Machine/Valory Records party and oh yes, there's Jewel. The salmon and especially the mashed potatoes are amazing – so good! -- at the official CMA Awards afterparty. Delish.