BABIES
Ron Howard Talks 'Happy Days,' Michael Sheen Talks Family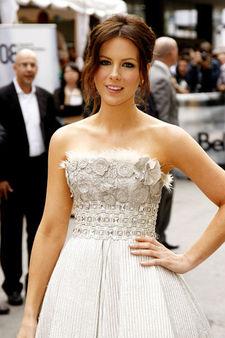 Although Jennifer Aniston is on the list, she is a no-show for the Frost/Nixon premiere held at NYC's  Ziegfeld Theatre. Rrr. I really wanted to attend Keri Russell's Adrienne Shelly Foundation Gala, which is taking place at the same time, but defied my heart and switched in the name of star power.
Well, even if he's not from TV shows past like Felicity and the Mickey Mouse Club, director Ron Howard represents the granddaddy of them all -- Happy Days. Who would he want to reprise his role?
Article continues below advertisement
"I have lived my life in such a way so that I really hope nobody ever wants to make a movie about my life," Ron tells me. "I've tried to keep the twists and turns to a minimum. But there's no one that leaps to mind to take on Richie."
Kevin Bacon and wife Kyra Sedgwick pose with their daughter Sosie before slipping out the entrance without talking to reporters. Hm, do they have a scandal?
Here comes Michael Sheen, who is dad to Lily, 9, with ex Kate Beckinsale. How do they work out parent swaps?
"It's very relaxed and informal," the actor who plays Frost says. "We don't work anything out too much. It's up to Lily a lot of the time. When she gets bored of me, she goes to Kate, and when she gets bored of Kate, she comes to me."
What's she into?
"She's rehearsing Mamma Mia! in her drama class," he says. "She's very excited about that."
He doesn't want her to become an actress.
"I hope she's going to be a writer," Michael says. "She's a very good writer."
Article continues below advertisement
Rebecca Hall had a blast playing a character in this Nixon drama, but what historical character interests her most?
"If I could travel back in time, I wouldn't mind meeting Shakespeare and finding out just how much of the plays he wrote and what he didn't," she tells me. "I could solve some long-standing academic arguments. I finished reading a book on the Congo and King Leopold, and that interests me a lot. The whole African history and how Belgium ran it."
Frank Langella, who plays Richard Nixon, was in for surprises.
"I learned about the brilliance of his mind as a lawyer, and how long he could filibuster and keep everybody off base until he thought the moment was necessary that he give the American people the truth, which he did."
Frost/Nixon is in theaters Friday.