BABIES
Rosie Rants about Octomom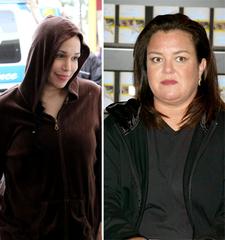 Even though she doesn't have the daily pulpit of The View's round table to sound off on topics in the news, the always intriguing — but not always coherent — Rosie O'Donnell has still found a way to share her thoughts on the Octomom controversy.
"I think she has some mental illness issues," Rosie told Fox News about Nadya "Octomom" Suleman, who gave birth to eight children on Jan. 26. "I think we need to show her compassion in some way, and mostly compassion for those kids."
Article continues below advertisement
Perhaps not seeing the irony, the former talk show host added, "I think the media coverage doesn't help. It only exacerbates her already fragile mental state."
Unlike others, who feel certain that a desire to be famous is what drove the Octomom's decision to be artificially inseminated with eight embyros, despite already being a single mother to six other children, Rosie's slant on the issue is more charitable.
"I don't think she did it purposefully with the intention of getting this kind of media tsunami, I just think that was the result," She theorized. "She is obviously of fragile mental health."
Meanwhile, Rosie's arch-nemesis, <a href="https://okmagazine.com/search/trump" target="_blank"><strong>Donald Trump</strong></a>, added his two cents to the story during an appearance on <a href="http://www.mandjshow.com/videos/the-verdict-is-in-7/" target="_blank">today's Morning Show With Mike & Juliet</a>.
When asked whether or not he'd consider having the Octomom be part of his hit NBC show Celebrity Apprentice, the Donald admitted, "Based on television ratings... the answer is yes!"
"I don't understand the fascination," he said. "But every show I see, she's on."