BABIES
Rumor Mill: Pamela Anderson Pregnant!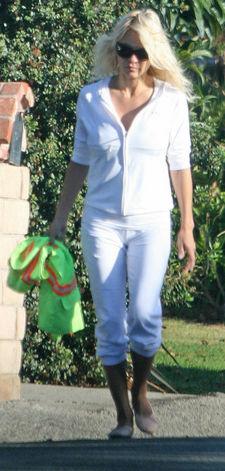 While many have chalked up the news of Pam Anderson and "poker player" Rick Salomon's bizarre almost-wedding in Las Vegas (they filed for a marriage license, but as yet have not walked down the aisle) to her whimsical nature, OK! is hearing that there may be a bigger reason for the pair to get hitched — a baby!
"She definitely looks like she's got a bit of a bump," one source tells OK!. "And this wouldn't be the first time Pam has rushed off to get married because there's a baby coming." The source is, of course, referring to the rumors that the Baywatch babe's surprise 2006 marriage to Kid Rock happened after she'd been impregnated. While these claims have been denied by the actress, they were bolstered by the fact that she filed for divorce from Kid only 11 days after miscarrying their unborn child.
Article continues below advertisement
The man at the center of this is, of course, Rick Salomon, most famous for his one major acting role — as Paris Hilton's XXX-rated co-star in their "stolen" sex tape One Night in Paris. He was also briefly married to 90210's Shannen Doherty, though the nuptials were ultimately annuled.
When contacted for a comment on this rumor, Pam's rep would only say that she does not comment on her client's personal life.
So... what do you think? Is there a baby on board for Pam and Rick?