BABIES
Ryan Sutter on Breastfeeding: I Just See Boobs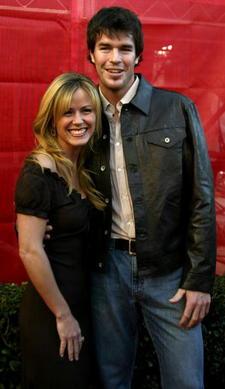 Boys may grow up, get married and have children, but some things will never change. Asked by MomLogic to compile a list of 10 Things You Don't Know About Dads, Ryan Sutter, who welcomed son Max, with his Bachelorette wife Trista, in July, admits seeing breasts will never get old.
"Even when you're about to breastfeed, we get turned on because we're guys and we just see boobs," he names as his number 1 "thing to know."
Article continues below advertisement
Elsewhere on the list, the 33-year-old firefighter admits to other naughty deeds, such as noticing 25-year-olds who walk by ("That's why we never leave home without our sunglasses!") and not "realizing" there's a dirty diaper around.
"Sometimes we 'don't realize' they have poopy diapers and let you discover it," he writes.
And don't think all men have tough skin — dads, Ryan says, are sensitive as well. "And sometimes we feel fat."
But he feels nothing but love when chatting about family life — with his buddies.
"We don't just talk about beer and sports with our friends," Ryan reveals. "We actually talk about being dads and how much we love our kids and wives."
For Ryan's complete list, check out MomLogic.