BABIES
Sarah Silverman, Jimmy Kimmel Rekindle The Flame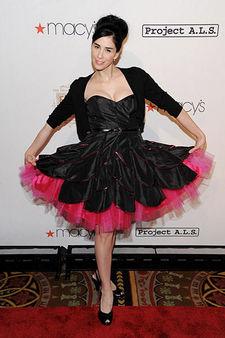 Sarah Silverman and Jimmy Kimmel reunite onstage during the Project ALS Tomorrow is Tonight benefit gala held at NYC's Waldorf Astoria Hotel.
After the event, I hear the on-again lovebirds snuggle in the green room where Sarah admits they are back together and trying to work things out.
Earlier in the evening, top comedians do their best to bring smiles to those who support the charity began by Jenifer Estess, who was a beloved New York theater producer diagnosed with ALS in 1997.
Article continues below advertisement
"Is this like Stand Up To Cancer?" Sarah yuks. "Every time I hear the word cancer, I'm like dying." She rattles off her favorite things about the Waldorf. "Annie, Daddy Warbucks, the salad."
And then, Jimmy makes a surprise entrance to tell guests what they can expect on his show this evening as Sarah looks on lovingly.
But Sarah and Jimmy aren't the only celebrity couple in the house. Jen's friend Ben Stiller, who is hosting the event, brings his gorgeous Yves St. Laurent-clad wife Christine Taylor. I will never forget how Christine said she buys all her kids clothes at Target – even though Ben is a $20 million/movie man! So they're certainly cutting back during these wild economic times.
"Everybody has to worry," Christine says. "Everything, literally everything. It's the very obvious things from instead of buying two things of those snacks at the grocery store, 'do we really need two right now? Is it just going to sit there? Maybe just one.'"
Ben's mother Anne Meara won't admit to feeling proud of her son and daughter-in-law. "Get a grip on life," she says gruffly. "Don't paint everything in fantasy. We're human beings for God's sake." But she shows her softer side when she calls Christine "the best mother in the world."
Article continues below advertisement
Yes! Jen's friend Matthew Broderick is here. Have I ever told you how much I love Matthew Broderick?! He is the best! Matthew says he's going to get through the economic downturn with work, work and more work. How does he get the conversation started at an event like this? "Gee," he ponders. "That's a nice hat." And what's the best thing about being married to Sarah Jessica Parker? "I don't know how to answer that," he says. "It's very nice." Swoon!
Julianna Margulies admits she does Pilates with a trainer, but the new mom credits her son Kieran, nine months, with helping tone her sleek physique. "That's a workout. He's 22 pounds, so it's a lot of lifting." Whew!
Check out Gina Gershon, who looks amazing in a leopard-print coat as she BlackBerries away. What's the key to her style?
"I always find that when I get dressed really quickly it usually turns out a little bit better," she tells me. "I got dressed in, like, 20 minutes. I was like 'Oh my God, I've gotta get ready.' I got lucky tonight."
Article continues below advertisement
And how is Mad Men star John Slattery cutting back in these tough times? "I stopped getting pedicures," he cracks. Did you know he's married to George Clooney's ex-wife Talia Balsam? He is! She shies away from reporters, natch.
Time for the event. We nosh on steak, potatoes, asparagus and rolls as well as apple pie and vanilla ice cream while being entertained by the best and the brightest comedians. Such as …
Chris Rock, who says, "I don't like my kids. My kids are rich – I wasn't rich. I don't like them. They expect ****. My kids have been all over the world. I didn't go anywhere until I was 35. I like the nanny's kids. They're happy with a Tootsie Roll."
Gasps fill the room when Jon Stewart mentions he tells his kids "God is dead" before bedtime. This is a benefit to find a cure for a deadly disease, after all. But Ben gets crazy laughs during his video in which he asks for donations for all his illegitimate kids. Hilarious!
Article continues below advertisement
On the way out, we pick up a gift bag that includes Redken's Clear Moisture shampoo and conditioner. Can't wait to try it! Oh, and we bump into the preggers Caroline Rhea. "I risked breaking my water to come and support this event," she says as we walk with her. "Chris Rock is hilarious." She chuckles as we follow her over to the coat check area. "This is fun. I feel like I'm in The Duchess. I've got all the little girls three reporters with me. 'Yes ma'am, yes ma'am.'"
For more on Caroline Rhea from the Project ALS Tomorrow is Tonight benefit gala, pick up the OK! on stands this week.