BABIES
SJP & Matthew Reveal Babies' Names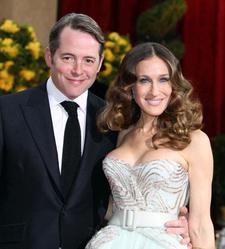 As the news spread today that Sarah Jessica Parker and Matthew Broderick had welcomed their twin daughters via a surrogate, the couple released a statement confirming the happy arrivals, saying they were "delighted to announce the healthy arrival of their two daughters."
"The babies are doing beautifully and the entire family is over the moon," the couple say in the statement.
The twins arrived at 3:58 p.m. yesterday in Ohio: Marion Loretta Elwell weighed 5 lbs., 11 oz, and Tabitha Hodge Broderick weighed 6 lbs.
Article continues below advertisement
"Both Hodge and Elwell are family names on Parker's side," the statement explains.
The news first broke in April that the couple were adding to their family by having twin daughters with the help of a surrogate mother. They have a son, James Wilkie, 6.