BABIES
SJP is" So Nurturing and Loving"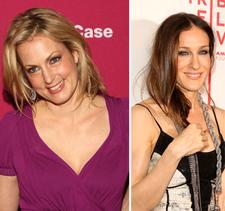 After Sarah Jessica Parker and husband Matthew Broderick announced they're expecting twin girls via a surrogate, her pal Ali Wentworth tells OK! she found out before her friend had a chance to tell her the happy news.
"I read it and I emailed her and I was like, 'Is it true?' " she told OK! at a private screening of Head Case at the MoMA Sculpture Garden in NYC last night. "She said 'It's true!' "
Article continues below advertisement
Ali's enthusiasm for her pal SJP is partly due to being a mother herself, with husband George Stephanopoulos.
"I am so excited for her. I mean I have two little girls and she'll have two little girls," she gushed to OK!. "Her son is so great. He's going to be a great older brother. And look at her! She's the most fashionable, chicest woman in the world. She has to have girls!"
And Sarah Jessica won't have to lift a finger to prepare for her twins if Ali has anything to say about it.
MORE ON:
Sarah Jessica Parker
"I told her that I was going to take care of everything. I said I have all the hand-me-downs, I know how to deal with girls," Ali explained. "I know how to bathe girls. I'm all girls. Our house is all pink all the time."
But she also knows that her buddy already has her own amazing mother skills, adding, "She's so nurturing and so loving and so supportive. She's such a sweet friend and I see her with her son. She's such a fantastic mother. Like I think she should have a hundred kids. I think she'd be great."
Other celeb kids better watch out as well, with SJP's fashionista genes, Ali thinks her girls will be set to have great style.
"I mean when you see those pictures of those girls walking down the street, they're going to be so adorable," predicted Ali.