BABIES
SJP's Friends Thrilled By Baby News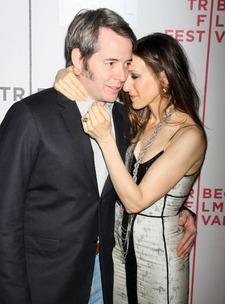 News that Sarah Jessica Parker and Matthew Broderick are having twins is spreading like wildfire through their circle of New York friends.
Last night, just a couple of hours after they announced they would be having girls through a surrogate, Sarah's close pal, Patricia Field told OK! that she was thrilled about the news.
"I lived with her through the conception and the birth of their son James, and I could see how much she enjoys that," said the designer, who put together SJP's wardrobe for Sex And The City.
Article continues below advertisement
"And you learn that from family. She must have learned that from her mom."
But although Sarah has only brought up a son so far, Pat said she'll be a great mom to girls.
"I think she could have fierce daughters," said Pat at the launch of the Matthew Williamson for H&M summer collection, which will be in stores May 14th.
And what could the fashion guru see her style-obsessed friend Sarah dressing her girls in?
"I don't know. Maybe they'll be poodles in little poodle coats," she laughed.
CLICK THE PICs for more SJP and Matthew!
But with the new additions due this summer -- before she starts shooting the sequel to the SATC movie -- how will Sarah juggle bringing up babies and a hectic filming schedule?
"She loves being busy," said Pat. "She's not good idle. She has to stay busy, busy, busy."
There had been rumors swirling in recent months that Sarah and Matthew's marriage had been in trouble. So does their friend think their relationship is as strong as ever, as they go in to this tough new chapter of their lives?
"I don't know," said Pat. "But let's hope so!"
She added that the couple had not told her that they were planning to have more children.
By Oliver Coleman