BABIES
Stars Align for Can-Do Awards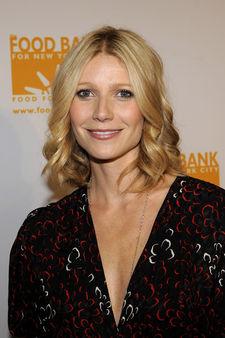 Fashionable foodies unite at the Food Bank's Fifth Annual Can-Do Awards held at NYC's Pier Sixty.
Honoree (and Food Bank volunteer) Gwyneth Paltrow gets support from her Spain … on the Road Again reality co-star, chef Mario Battali, but gracious Gwyneth says the praise belongs to Food Bank president Lucy Cabrera.
"She's been able to affect such change in New York," the mother of two says. "I'm thrilled to be here and help in any way I can."
Article continues below advertisement
Petra Nemcova gives one of many three-part kisses to the Extra reporter. "There's no point in putting lipstick on me because it's going to come off," she chuckles.
What's Rachael Ray's favorite junk food?
"I never get angry at food," she laughs. "I don't have junk food. I don't have anger with food. I enjoy a chip as much as I enjoy a five-course meal. I'm good with food."
Honoree Helena Christensen says she can't get enough Magnolia Bakery's banana pudding as well as cheese, milk and yogurt … American Idol finalist Kimberly Locke reveals she lost 40 pounds on Jenny Craig by "doing it the healthy way" … Christy Turlington and Ed Burns confess, "I have allergies," she says ... and Katie Lee Joel loves it when hubby Billy Joel serves up his specialties — spaghetti Bolognese and strip steak.
What does Michael Stipe pony up when asked for food drive donations? "I'm from Georgia, so black-eyed peas," he says. "That's my favorite dish. I like to have them with ketchup."
At 7:52, Gwyneth's mom Blythe Danner turns up. Just in time to see her baby girl get a new trophy to keep that Oscar company.
Check out the OK! on newsstands this week for more tantalizing tidbits from the evening. Britney Spears "I Will Get My Boys Back" is the cover line.