BABIES
Stars Show Versace Some Love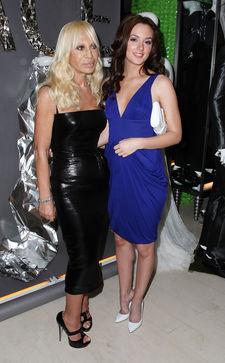 Jennifer Lopez, Patrick Dempsey and Denzel Washington are expected at the launch of Versace's Menswear 2008 line held at Barneys New York.
Instead, Gossip Girl's , Woody Allen, Soon-Yi Previn, Kyle MacLachlan, Patti LaBelle, Busta Rhymes, Sean William Scott and Alan Cumming turn up. (Yes, it's an Alan extravaganza — two days in a row!)
While caviar, smoked salmon, ravioli and chicken are served, flashbulbs pop for Donatella Versace, who is wearing clear braces. The stars cozy up for photo opportunities with the divalicious designer.
Article continues below advertisement
"Patrick Dempsey is very well-dressed," Donatella says. What are the ideal qualities in a man? "To listen. Not many men listen. They like to talk a lot, but not listen that much."
How does she indulge herself on vacation when she's not working?
"It's not possible anymore," she sighs. "My only vacation is in these clothes."
She dashes out for a cigarette break, but returns in time for Woody, who leads wife Soon-Yi by the hand.
I catch up with Patti, who exclaims "I love OK!" as she takes off her fabulous fur. As a makeup artist applies lipstick, she gleefully answers my questions. (She's great!)
Here's Leighton, who tells me I asked her about her trainer last time. (This is wild — they all remember me?) How does she prefer her ideal man? "In nothing, honey!" she cackles.
A fellow blogger asks me to snap a pic of her and Busta. Lookin' good! Meanwhile, Sean William races around trying to dodge reporters. Does he have a juicy scandal?
Article continues below advertisement
Here's Kyle. What does he love about the new Versace line?
"I like the combination of rock 'n' roll and conservative items," the Desperate Housewives star tells me. "They're classic in their tailoring but they have a little bit of edge in the fabric or a detail that's slightly different. I like that."
Turns out Kyle tells me he and his Melania Trump-lookalike wife Desiree are expecting, and can't wait for their new baby to arrive this July.
Perhaps Donatella can start a kids' line? She introduced Halle Berry and Gabriel Aubry, who are new parents to Nahla.
P.S. When I get to work the next day, the photo editor alerts me to pix of Donatella and I. Waah! There are six pix of me interviewing her. Wild…