BABIES
Suri 's #1!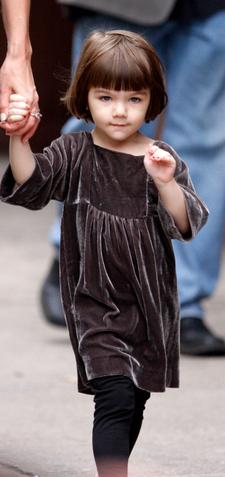 While her parents might've topped box offices with their movies or caused a media sensation by jumping on couches, Suri Cruise is #1 when it comes to most influential celebrity kids.
The two-year-old daughter of Tom Cruise and Katie Holmes tops Forbes.com second annual list of "Hollywood's Hottest Tots," pushing Shiloh Jolie-Pitt out of first place with her stylish hair and coveted clothes.
Forbes.com teamed with E-Poll Market Research to rank 50 famous kids and find out how often their names were mentioned on blogs and in news items, as well as factoring in their parents' star power. Suri appeared in 1,300 news articles and was mentioned the most on the blogs.
Article continues below advertisement
Shilo, firmly in the #2 spot, was also joined by two of her sibs in the top five: Zahara placed third and Pax fourth, with Sam Alexis Woods, Tiger Woods' daughter.
Also included in the top 10 were Cruz Beckham, Matilda Rose Ledger, David Banda, Sean Preston Federline and Sam Sheen.