BABIES
'The Hills' Star Doug Reinhardt & Girlfriend Mia Irons Are Expecting Twin Boys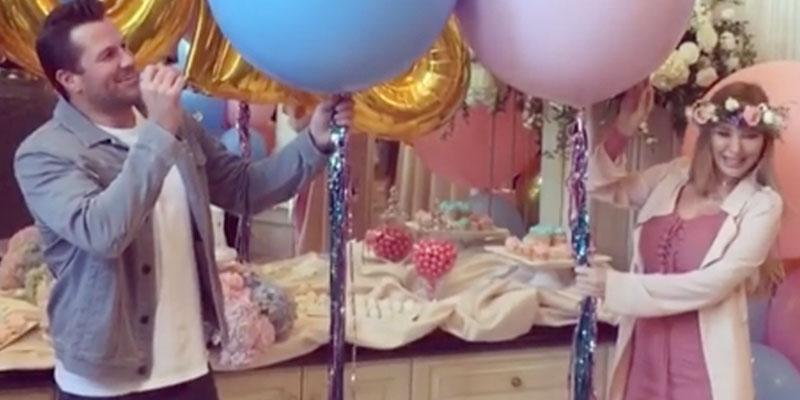 Congratulations are in order for The Hills alum Doug Reinhardt and his girlfriend Mia Irons! The couple announced that they are expecting identical twin boys later this year!
The two revealed the news at their gender reveal party on Saturday, February 16, and shared the excitement on Instagram. The former Baltimore Orioles baseball player's mom Kelly Roberts, and sister Casey Beau Brown threw the beautiful celebration for all of their friends and family.
Article continues below advertisement
Mia posted a video of her and Doug popping the gender reveal balloons as guests cheered them on. The big balloons sprouted with blue confetti, confirming the sex of their little ones.
"Blessed beyond measure with the magic of IDENTICAL TWINS, due this Summer! Something so rare that I can't even believe we're this lucky to hit the odds of 0.3%," Mia captioned the clip.
She added, "This pregnancy was our 2018 Christmas surprise, ironically finding out just a few weeks after Koby met Santa & wished for nothing BUT a Brother. Today we waited to find out exactly who was coming into our life!"
The Hawaii native continued, "Today we waited to find out exactly who was coming into our life! Thank you @caseybeaubrown for throwing us an amazing party, you're incredible! @dougreinhardt, I never met a man so driven & hopeful to nurture & also start a family."
"We've created such an amazing family life together, thank you forever! We got 2 IDENTICAL BOYS coming! BOYS! Wow my heart is so full! I can't wait! I love you all! Thank you for coming & celebrating with us," she ended the sweet video.
Have any potential baby names for the mom and dad-to-be? Drop them in the comments below!