BABIES
Tom Cruise Gets Real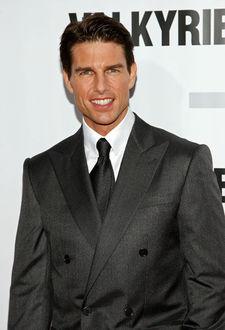 Tom Cruise arrives at 6:50 p.m. for the NYC premiere of his Nazi suspense thriller Valkyrie held Monday at Frederick P. Rose Hall in Time Warner Center.
Because a motley group of fifteen Scientology protesters is stationed outside the venue, the glitzy spectacle is located deep inside the building away from all the hubbub on the bustling street below.
The hysteria makes one feel sorry for the warm, kind, generous man who looks everyone in the eyes and finds joy in making others laugh. But he takes it all in stride. The Top Gun star asks to snap a photo mugging with a fellow red carpeteer, saying, "Give me this, man. Appreciate it."
Article continues below advertisement
He also makes fun of WPLJ's Brad Blanks by copping a fake snore. "I thought we were having a good time, what happened?" Tom yuks. (See video!)
And when asked about his Golden Globe nod for Tropic Thunder, Tom gets in the zone, cocks his head and starts swaying, saying he learned to dance by watching Soul Train. "They always had the best moves."
Although the likeable actor, 46, dismisses the question "does Scientology give you power?" that comes from a brazen international TV crew, he's more than happy to gush about his beautiful family that includes wife Katie Holmes, who turns 30 Thursday, and kids Bella, 15, Conor, 13, and Suri, 2. A few highlights:
*Suri was afraid of the eyepatch he wears in the flick, and would remove it whenever she saw Tom wearing it. "The girls in the makeup trailer had a little teddy bear and put the patch on it, and gave it to her so she would play with it. She got used to the patch on the teddy bear."
*She was also afraid of her Santa Claus doll. "At first she was like 'no, dada, no, no.' She happened to give it another go, and it's great." As for Christmas plans? "We still haven't decided."
Article continues below advertisement
*Suri's a big talker. "Her vocabulary is incredible." His favorite phrases? "The one that we love is 'I love you.' I love hearing that. 'I love you mama.'"
*The keys to his relationship with Katie are communication and taking turns. "She's in there hosting the family and friends tonight, the same way I did when she did her Broadway show -- that was my job. That way she can go out and do her thing."
*Tom enjoys being Mr. Mom. "I always wanted to be a father. I love every moment. Now we've got the teenagers and the 2½ year-old. I feel lucky to have that dynamic of they're going through their things while we're all surrounding her and enjoying every moment of entertainment that she brings."
It's no wonder Tom Cruise and Brad Pitt are the biggest movie stars in the world. They know how to work it. Very impressed.
Valkyrie is in theaters December 25.