BABIES
Tom: Suri Can Be Whatever She Wants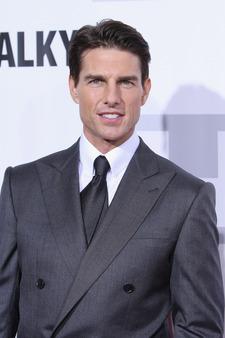 Suri may be the daughter of her superstar parents Tom Cruise and Katie Holmes, but that won't limit her career options.
"She can be whatever she wants," Tom, 46, said at Monday night's premiere for his new film Valkyrie at Frederick P. Rose Hall in NYC. "All my kids, whatever they want to do in life. When I was growing up, I always wanted to travel the world. I wanted to not just be enveloped by different cultures, but learn about their history and how they do things. And that's how I raise my kids – so that they have full exposure to the world, and all different kinds of ideas and possibilities so that they can make choices themselves."
Article continues below advertisement
But don't think that Tom is just going to let the two-year-old and his adopted children Bella, 15, and Conor, 13, coast along through life.
"I do have a thing – if you want to do it, really do it," he says. "Don't be passive about it."
Of course, if little Suri wants to be an actress, she'll have the full support of dear old dad.
"I'd love it," he says. "Acting is work that I love. I love to create life and give energy, create characters and create stories. It's a lot of fun."
Now that his family life with wife Katie, 29, has taken center stage, Tom hopes to work on a kids' film that his young daughter would enjoy.
"I'd like to," he tells OK! "I don't have any right on the horizon. I like those movies. Some are really great, and it would just be fun."
By Valerie Nome