BABIES
Tom: Suri's a Girlie Girl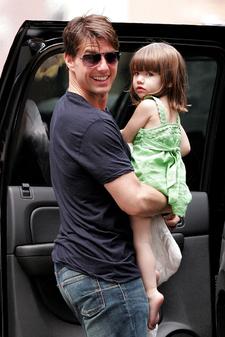 Suri Cruise knows what she wants, and when it comes to getting dressed in the morning, that doesn't include pants!
Tom Cruise admits to Entertainment Tonight in an interview airing tonight that his fashionable and adorable daughter is a "girlie girl," saying, "She won't wear pants. Kate Holmes finally got her in jeans the other day."
CLICK HERE for more pics of Tom, Katie and Suri!
However, daddy's little girl definitely didn't take too well to being clothed in something other than a dress.
Article continues below advertisement
"We put the pants on and walk away and the pants are off and the dress is on," Tom reveals.
The busy husband and father has been by his wife's side as she wows audience in Broadway's All My Sons, but he also takes the time to work himself – next up, he'll be appearing in German war film, Valkyrie, shot on location.
"It was an incredible experience," he says of making the movie in Germany. "We filmed in actual homes where the Resistance met. It's a very inspiring story that's timeless."
Tune in to ET tonight for more with Tom!