BABIES
Tori & Dean are Potty Partners in Crime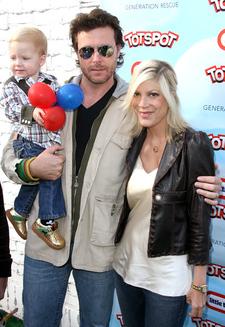 Motherhood has been full of milestones for Tori Spelling, 35. The Beverly Hills 90210 alum, who has two kids with husband Dean McDermott, told OK! at a taping of The Rachael Ray Show in NYC that daughter Stella, 8 months, has already said her first word: "Mama."
"She is very girly and flirty but she is loud and demanding--which is true for most women!" said Tori. Meanwhile, son Liam, 2, is just getting the hang of toilet training, thanks to the Pull-Ups Potty Dance. "He takes his Pull-Ups off and goes to the bathroom," said Tori, (who teamed up with the brand to help families bid bye-bye to diapers). "And then he gets to do the Potty Dance." But sometimes Tori and Dean, 42, boogie down too! "I think it's more fun for us!" said Tori, laughing.
Article continues below advertisement
When she's not busy potty-traning, Tori has been hard at work reprising her role as Donna Martin on the new 90210. One of her young co-stars, Annalynne McCord, recently caught up with OK!, where she gushed over getting to work with Spelling.
"It's been really cool for me," McCord told OK! at the Kiss For a Cause event in Santa Monica on Feb. 7. "She's so little! You don't realize how little people are when you see them on TV and then you see them in person and you're like, 'Oh my god!'"
Ok, isn't that the pot calling the kettle black there, Annalynne?!