BABIES
Tori & Dean Beg (Nicely) For Scripts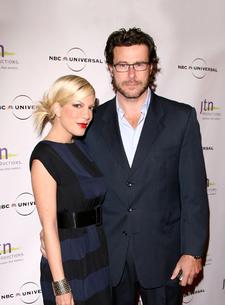 Tori Spelling and husband Dean McDermott are busy these days, with the fourth season of their reality show, Home Sweet Hollywood. "Babies, babies babies" and "lots of dogs," says Tori. But if you want to pitch a new idea, bring it on.
During their introduction for new shows for Oxygen today in NYC, the couple addressed their busy lifestyle. Despite the stress of their oh-so-full lives with two kids and dogs, Dean added they do have time for feature films, saying, "We are looking for movie scripts."
Article continues below advertisement
"There's probably a lot of writers out there in the audience, so if you have any ideas, we're open," offered Tori.
Perhaps the couple is looking for a little relief from their daily lives, full of "the babies and the dogs," Tori reiterates. Anything more?
"And a lot of poop," Dean responds. And what else? Take it away, Tori!
"A whole lot of poop."
Got it. Someone please send this couple a baby/dog/poop-free script, stat!