BABIES
Tori to Return to 90210?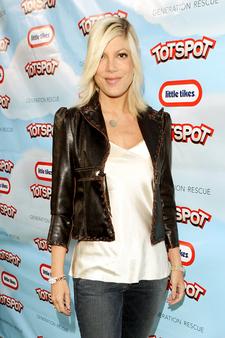 If Liam McDermott was old enough to complain, he might have a word or two for mom Tori Spelling for dishing about the 1-year-old's embarrassing moments.
"Someone who shall remain nameles … might have pooped in a public pool," she tells MomLogic.com. "He had his swimmer on, but… things slip out and needless to say, we got out of there quick."
Poor Liam! Hopefully his new little sister Stella will share the burden of embarrassing stories.
Article continues below advertisement
Tori says having Liam prepared her for Stella, and things are already easier this time around, including losing that baby weight.
"I just kind of relaxed with it and it seemed to come off easier," she reveals. "I'm just kind of making it a family affair. We've gotten the family involved in cooking and working out together because I'm a working mom, full time, so when I have an hour off I don't really want to leave my kids and go to the gym."
And speaking of being busy, is Tori going to throw some more work into the mix and return as Donna Martin on The CW's new 90210?
"Who knows what the future will bring. I would love – it if worked out – to reprise my role for the fans."
Watch the whole interview on MomLogic.com for more Tori!