BABIES
The Truth About Jayden's Health Scare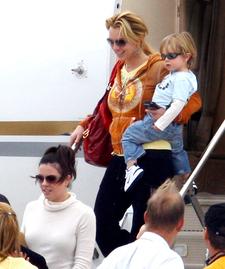 Flashing a smile as glorious as the one she displayed 16 hours earlier onstage in L.A., Britney Spears stepped off her chartered jet at Mississippi's tiny McComb-Pike County Airport on Nov. 7. She balanced son Preston, 3, on one hip while a nanny helped his brother, Jayden, 2. Britney's dad, Jamie Spears, and her brother, Bryan, were by her side; mom Lynne welcomed her on the tarmac.
Article continues below advertisement
It was the beginning of a perfect family reunion, until it all came crashing down. At a Nov. 9 barbecue lunch at Serenity, Britney's estate in Kentwood, La., Jayden began having problems breathing, became non-responsive and developed hives. Britney immediately called 9-1-1.
"She was told it would take 30 minutes for the ambulance to get to her, so she was advised to drive to the hospital," a source tells OK!. With a bodyguard at the wheel, they raced to Southwest Mississippi Regional Medical Center.
"The doctors weren't able to immediately identify the problem, but later determined Jayden had suffered an allergic reaction to something he'd eaten," says a source. The "something" was shellfish, a member of Kevin Federline's family tells OK!.
"Jayden's had a sensitivity to shellfish in the past, although he's never been formally tested for it. He has been now," the source continues, adding, "Britney was extremely upset."
Article continues below advertisement
Thankfully, Jayden was released from the hospital and able to return home to his family on the evening of Nov. 10.
CLICK HERE for OK!'s Ultimate Britney Spears gallery!
Before the medical crisis, the family, including Britney's sister, Jamie Lynn, 17, her fiance?, Casey Aldridge, 19, and their 5-month-old daughter, Maddie, were catching up with the star. With the Dec. 2 release of her album Circus, Britney is set for a huge comeback.
For more of what's next for Britney, pick up the new issue of OK! — on sale everywhere Thursday!