BABIES
VIDEO: Brit Heads to the Doctors With Dad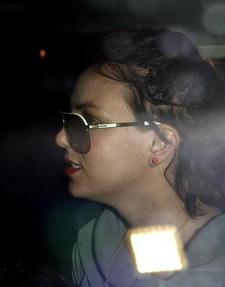 Around 2:30 p.m. on Monday, a black Cadillac Escalade carrying and her father Jamie Spears entered the parking garage of a medical office off of Wilshire Blvd. in Beverly Hills. And as the pop star exited the car, she took one look at the phalanx of oncoming photographers and exclaimed, "Oh my God... My dad's gonna get mad."
(Video courtesy of hollywood.tv)
However, when one member of the paparazzi asked Brit if she's happy to have her family around, she replied, "Yes."
Article continues below advertisement
The pop star was met in the garage by a female member of the center's staff who handed Britney a diet coke as they entered the facility together.
During their visit to the docs, Brit and Jamie were spotted sharing a father-daughter moment — and a smoke — on one of the center's balconies.
Earlier in the day, Brit was once again able to spend a brief visit with her boys, Sean Preston and Jayden James, who were at her home from 9 a.m. until noon.
Whatever happened at the doctor's, perhaps Brit didn't like what she heard — after leaving the medical center, the pop star cancelled her scheduled kiddie dance class at Millennium Dance Studios.