BABIES
Video: Kevin Bacon, James Taylor Deal With Family Matters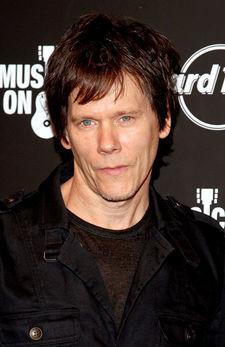 Kevin Bacon and brother Mike – also known as the Bacon Brothers – host the Musicians On Call Benefit Concert and Auction held at the Hard Rock Café in NYC.
How do the guys cope with sibling rivalry?
"We're still dealing with it," Kevin, 50, tells me.
Mike, 59, adds, "I beat him up every once in awhile just to keep him humble."
Kevin laughs, "I try to ask him to stay away from my face because I use it for work."
Article continues below advertisement
See OK!'s exclusive video! It's your ticket to the party.
The Bacon Brothers aren't the only duo on deck tonight. James Taylor, who just says "no" to rumors of retirement, steps out with daughter Sally, whose mom is Carly Simon. (He's performing!)
Sally, 35, made James a grandpa with the birth of her son Bodhi, 16 months.
How does being a grandparent compare to being a parent?
"Kids are kids, but any grandfather will tell you -- you get to hand them back to their parents when you're tired," James, 60, tells me. "When you've got your own, you've got them all the time."
James isn't solely in grandparent mode. He's also dad to twins Henry and Rufus, 7, with wife Kim.
Any advice for parents of twins, like Rebecca Romijn, Jennifer Lopez and Julia Roberts?
"There are more and more of us," he tells me. "Actually, it's easier than having two kids of different ages. You just basically do everything twice."
Speaking of advice, Sally ponders big time when asked the best words of wisdom her parents James and Carly have given her.
Article continues below advertisement
"Follow your dreams," she tells me. "That's something that's changed. Every time I think I have one direction, it branches off into a different path that's always something much more interesting than I could have ever come up with. Follow your dreams."
Sally continues, "It comes from both of them. It's an evolution of their own creation of their lives. To continuously do what your heart tells you to do is something that they're both products of. I don't think you can deny that that's been extremely successful for both of them. If I can continue to do that, I think I'll probably be in good standing."
What did her parents think of her naming her son Bodhi?
"They both loved it. They both really loved it. My dad's all about vowels and consonant sounds and being able to call someone like calls out Bodhi… that was perfect for him. My mom just loved the concept of the magical spirituality of it."
She continues, "My husband and I spent a lot of time in Southeast Asia, so that was a major influence on our decision. My mom really liked the idea that it was exotic because she's exotic."
Article continues below advertisement
What was the inspiration for the name Bodhi?
"Bodhi is the tree that the Buddha was enlightened under, and in Buddhism, Bodhi is someone who doesn't need to incarnate again, but incarnates for the compassion of helping others to achieve enlightenment. Bodhi's fatwa is way too long and way to heavy. You just don't want to burden your son with the heavy load of having to become a Buddhist monk, so what are you going to do?"
She adds, "Bodhi just seemed like the right name, and it just rang true with both my husband and I that our son was supposed to be named Bodhi. And that was it!"
Time to head in for a night of music and appetizers like coconut chicken. Mmm – delish.
Video production by Chris Morran. Filming by Jac'leen Smith.