BABIES
Video: Kimora, Ronson Keep Secrets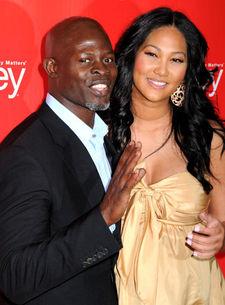 Kimora Lee Simmons and Djimon Hounsou are the true VIPs of the JC Penney Celebrates Spring Style fashion show held Tuesday at NYC's Espace.
The rumored-to-be-expecting couple is protected by a bevy of bodyguards as they grin and nod to well-wishers in a private area. Then, Kimora is escorted backstage, and emerges to takes a bow and wave during after her Fabulosity collection debuts.
Making a scene is certainly what the mom of two, 33, does best, but she's got stiff competition from Charlotte Ronson, who is also on hand to promote her affordable line I (Heart) Ronson. (Low-price designer lines from Allen B. Schwartz, Nicole Miller and Michele Bohbot are also on display.)
Article continues below advertisement
While Charlotte, 31, who is Samantha's twin, remains mum about life with Lindsay Lohan, she admits she's "super-close" with her sister.
How are they alike?
"We love each other – just kidding," the blonde designer tells me with a smile. "We're like each other's other half. We're super-duper close. We have a lot of differences, but we have a lot of the same mannerisms and things like that."
Meanwhile, the economy is on everyone's mind this evening as we lap up appetizers like filet mignon on garlic bread and shrimp cocktail before noshing on vanilla milkshakes and chocolate-chip brownies.
Minka Kelly shares a budget beauty tip. "I put Aquaphor on everything," she tells me. "It's a healing ointment you can get at any drugstore, and I use it as my chapstick, I use it on the cuticles, I use it on any sort of little knick I get. It's the best."
Ooh! Here come the Real Housewives of NYC. They're always fun.
What is Countess LuAnn de Lesseps' best memory of her salad days -- life before she was so fortunate?
Article continues below advertisement
She tells me, "Being with my family, I suppose. Growing up with six brothers and sisters, we had our own team. You learn how to stroke people's egos and get what you wanted, so it's a very good thing to grow up in such a large family because it teaches you how to share and how to respect other people's space. Now I spoil them with gifts on holidays and take them out to dinner. We're just very close as friends, which is wonderful." She adds, "You can pick your friends, but not your family."
Jill Zarin adds, "I'm wearing a beautiful Bisou Bisou top that I think is $38 or $32 and I'm all about the truth, so I don't lie – I would buy this top and wear it. Normally I spend a lot more money on clothes, but if it fits, I wear it. It doesn't matter what it costs."
Model CariDee English always uses her CoverGirl tinted moisturizer before she heads out for the day.
She adds, "You don't need to buy the highest-priced, nicest stuff. It's what fits you good. I love going to little stores around NY or L.A. and finding cute little things to accessorize or buy something that you really like – I have a nice Dolce watch, but then I accessorize with cute little jewelry. Something nice, and then accessorize it with something that's not that expensive."
On the way out, we pick up a bouquet of flowers pinned with a brooch. Nice!