BABIES
VIDEO: Naomi Watts, Clive Owen Talk Parenting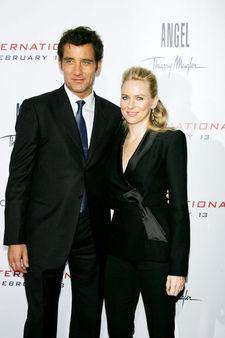 Naomi Watts gives props to her Thierry Mugler suit during The International premiere held Monday at NYC's AMC Loews Lincoln Square.
"It's a beautiful suit, it's a well-cut suit, and it gives me a waistline, which I don't have right now," the Aussie actress, 40, who is mom to Sasha, 18 months, and Sam, two months, laughs. (Dad is Liev Schreiber, 41.)
Up next for Naomi? Hiring a trainer. "Breastfeeding is the first initial thing that makes you lose weight," Naomi says, adding that shedding poundage post-pregnancy #2 is "about the same" as the first time. See Naomi's Post-Pregnancy Cravings!
Article continues below advertisement
Little Sasha and Sam are lucky boys. Does she hope they follow in their actor parents' footsteps and go into showbiz?
"I want them just to follow their dreams and be whatever pleases them," she tells me.
Producer Charles Roven praises Naomi as a mom. "She started work six weeks after she gave birth to her first child," he tells me. "The baby was always on the set. He was always in the trailer. The baby was cute. Now she's got two!"
Always-game Clive Owen slides over to pump up the thriller, which is in theaters February 13. (Watch OK!'s exclusive red carpet video!*)
With Naomi and Sasha, and Clive and his brood -- which includes wife Sarah-Jane and daughters Hannah, 12, and Eve, 9 -- it was a family affair on the movie set.
"My girls were around whenever they could be," the British actor, 46, says. "We traveled a lot on this film, so it's all around school."
Article continues below advertisement
Now that Hannah is almost a teenager, is he ready for her to start dating?
"No, not at all," Clive says with a smirk. "I don't want to talk about it. I'm in denial."
What professions does he hope they go into?
"Whatever makes them happy," he tells me. "Whatever they want."
The City's Olivia Palermo and boyfriend Brad Leinhardt dash inside. They can't miss it!
The International is in theaters February 13.
*Special thanks to Chris Morran for creating another spectacular clip.