BABIES
Video: Pete in the Doghouse with Ashlee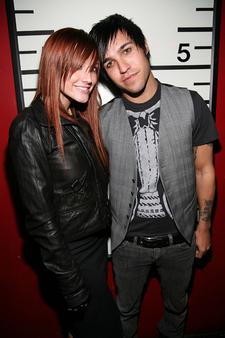 Less than a week after Pete Wentz went on Howard Stern's radio show and blabbed about his sex life with wife Ashlee Simpson, the new dad decided to share more of his personal life with fans, revealing that Simpson was none too pleased at his loose talk.
CLICK HERE for OK!'s 2008 Year In Babies Gallery!
During a recent Fall Out Boy show, Wentz told concert goers that Ashlee gave him quite the lashing for publically dishing on their sex life, informing him, "I'm going to pay you back a**hole".
Article continues below advertisement
A brief recap: Pete told Howard Stern that the first time he and Ashley had sex, "It was the single best sexual encounter I've ever had. We were in the Soho Grand Hotel, and there was a mirror, and I was like, 'Oh my God, you're banging the girl of your dreams and you're watching it right now.' "
He also revealed that Ashley loves to give lapdances and, in another interview on Monday, revealed that he has tasted her breast milk, describing it as "soury" and "weird."
Check out the video of Pete telling fans all about Ashley's reaction below!