BABIES
When Will Britney See Her Boys Again?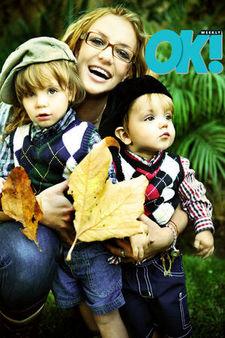 In the weeks following Britney Spears' first trip to the hospital in early January, it seemed unlikely to many that the pop star would get back any of the visitations privileges she'd lost after the four-hour standoff with the authorities.
However, sources inside Brit's ongoing battle with ex-hubby Kevin Federline are now telling OK! that, in light of being on her best behavior in the last week, K-Fed is warming to the idea of easing up on the Britney ban of their two sons, Sean Preston, 2, and 1-year-old Jayden James.
Article continues below advertisement
"Kevin's never wanted Britney out of the boys' lives," the insider explains to OK!. "He just felt that she needed to get her sh** together first. If she can prove she's not a danger to the boys, I don't see why he would keep her away any longer."
And with Brit appearing to be focusing again on her career and on mending fences with her estranged parents, all sides are hopeful the pop star isn't just playing nice until a court dissolves her father's conseratorship over her financial and personal matters.
Speaking of which, the matter of whether Jamie Spears should continue as conservator will be discussed in court on Thursday. The result of that hearing will probably have a strong influence on whether or not K-Fed will continue fighting Brit's visitation privileges.
Meanwhile, another source tells OK! that it's possible that Trope & Trope, Britney's attorneys in the custody war, will be heading to court early Wednesday morning to ask once again to be removed from the case. If that happens, OK! will be there to bring you the news as it happens.