BABIES
While Angie Works, Brad is Mr. Mom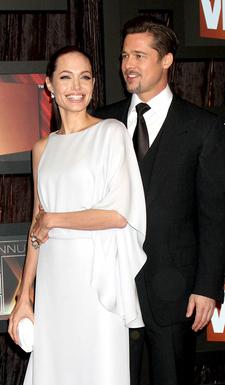 Angelina Jolie better watch out! It looks like the mom of six has some competition in the New York suburb the Brangelina brood currently calls home.
As Angie, 33, shoots the spy thriller Salt in NYC, Brad Pitt, 45, has become a regular at the school gates... and a housewives' favorite!
"Brad drives the kids to school, so the moms have started dressing up to drop their kids off," a local tells OK!. "They usually wear sweatpants, but now they're all decked out."
Article continues below advertisement
The proud papa is also a fixture in 2-year-old Shiloh's classes at her preschool near the family's rented mansion on Long Island's swanky North Shore. "He sits in the corner of the classroom because Shiloh starts to cry whenever he goes," a source tells OK!.
"Shiloh won't leave Brad's side and holds onto him when he tries to get up. He wears his sunglasses and hat the whole time. The moms go crazy and whisper about him, but he hasn't made any play dates."
Those mothers should frequent the Oyster Bay, N.Y., Dunkin' Donuts where a solo Brad bought coffee on April 8. But Angelina was firmly in the picture April 5 when they spent 30 minutes picking out a game, magazines and books with Maddox, 7, and Pax, 5, at Syosset's Borders Books.
"Brad was sitting in the kids' aisle with one of the boys. When Angelina found him, Brad smiled and said, 'Hi Mommy!'" an eyewitness tells OK!. "Angie took one kid and Brad took another and they walked around the store. They seemed like a normal family buying books."
MORE PICS OF BRAD AND ANGIE: