BABIES
While You Were Sleeping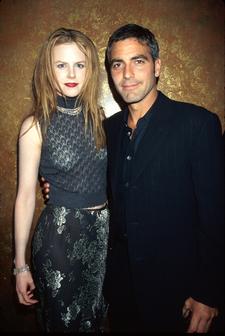 George Clooney's got a new starring role: Godfather of Nicole Kidman and Keith Urban's kid. "Nicole asked George to be her baby's godfather and he said 'yes.'" a source told The Mirror. "They are great friends and she can think of no one more perfect for the job." The hunk and Kidman have been friends since they met on the set of The Peacemaker in 1997. A rep for George Clooney has denied the story is true.
Article continues below advertisement
Snoop Dogg, soap star? That's right! Last week the D-O-double G taped a guest appearance on One Life to Live. "He sings a few songs at the fictitious club Ultraviolet and has a scene where he teaches Ilene Kristen, who plays the town's foulmouthed blonde, how to speak Izzle," a spy told Page Six. "He told the staff it's been his favorite show since he was a little boy." The leader of Tha Dogg Pound also recorded a new remix of the show's theme song which will air during the May 8 and 9 episodes.
Kate Moss has been banned from appearing on stage with boyfriend Jamie Hince during any of Hince's band's performances. Hince's band The Kills has been touring the U.S. and Europe in recent months, and Hince's bandmate Allison Mosshart refuses to let the model citizen on stage, reports The Mirror. Kate, you'll remember, often enjoyed an embarrassing duet or two with ex-boyfriend Babyshambles singer Pete Doherty. There's only room enough for one woman on this stage!