BABIES
While You Were Sleeping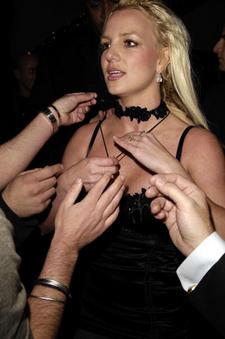 Not only has Britney Spears had mental health issues, now, reports Rush & Molloy, she's got legal troubles too. Fashion consultant Nancy Rosu says that Spears owes her more than $50,000 and hasn't been paid since last August. According to Rosu, "Spears' accountant told us the checks were written and that Britney just needs to sign them." It doesn't look like that's going to happen anytime soon.
Contrary to published reports, Paris Hilton and Elisha Cuthbert did not lock lips at a club on Tuesday night, Paris' rep tells OK!. "It's false," a rep for the Simple Life star tells OK!. "Elisha and Paris are good friends and Elisha has a boyfriend. Paris doesn't kiss girls." The 26-year-old socialite reportedly engaged in a lengthy makeout session with Elisha, 25, at New York City's Tenjune and were "all over each other." But they were actually in close proximity for another reason. "They were talking close due to a loud restaurant," the rep says.
Article continues below advertisement
It's baby time for Ethan Hawke, whose girlfriend Ryan Shawhughes is with child. Shawhughes and Hawke met when she worked as a nanny to Hawke's two children with Uma Thurman. The pair kept their relationship under wraps for years, reports Page Six.
Today's Birthdays: Carol Channing (87); Anthony LaPaglia (49); Minnie Driver (38); Portia de Rossi (35); Justin Timberlake (27)