BABIES
"Wonder Wife" Joely Fisher Learns From Her Girls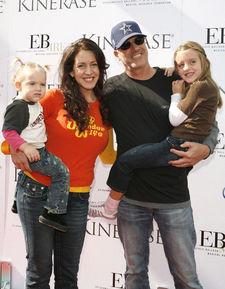 may be the parent, but that doesn't mean she doesn't learn a thing or two from her kids. The 'Til Death star tells OK! at the CelEBration at the Pier event that her daughters, Sklyar, 6, and True, 20 months, with husband , are constantly schooling her — in a good way.
"They teach me everything," Joely tells OK!. "They teach me perspective. They teach me to not take myself so seriously. They teach me that my job is a job. It's my career, but it's not more important than what we do when we're not working."
Article continues below advertisement
So what do they do during her downtime?
They spend the day together. "Just being able to be with them. Tomorrow we'll probably go sit in a park where nobody is. Playtime."
But it's not always fun and games. Wearing a T-shirt emblazoned with the term "Wonder Wife," the 39-year-old says she's worked hard to earn that prestigious title.
"I am a superhero," she jokes. "I bring home the bacon. I put it in the pan. I change the diapers."