BABIES
World Exclusive: Britney Reveals All!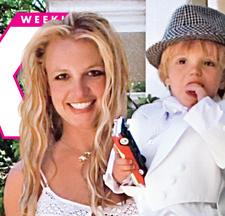 From her nasty divorce and custody battle to her now-infamous performance at the 2007 VMAs to the dark period under the control of "manager" Sam Lutfi, it's safe to say that the last two years were not the best in the young life of Britney Spears.
And now, one year after an erratic and distracted Brit stormed out of an OK! photoshoot, a very different woman sits down to talk openly about her two adorable sons, her father and the future of her nearly sidetracked career.
Article continues below advertisement
Having spent her young life in the spotlight, the 26-year-old mother of two tells OK! that she hopes her boys choose not to choose a career in entertainment. "I'd love them unconditionally if they wanted to," she explains. "I'd just as soon they have a more normal childhood.
Perhaps some of Britney's reluctance comes from seeing her little sister, Jamie Lynn Spears, have to face so much public scrutiny over her recent pregnancy. "I was shocked a little bit," says Brit. "She's always been the baby, and now the baby was having a baby. It was mind-boggling."
The pop superstar also tells OK! that she wants her boys to be close to her newborn niece. "I'm sure the boys will be like big brothers to Maddie," she says.
In an unexpected twist, Britney's downward spiral in recent years ultimately helped to heal the bonds between the singer and her parents, Lynne and Jamie Spears.
"God has a way of taking something bad and turning it into something good," explains Jamie, who also spoke exclusively to OK!. "If this hadn't happened, I would never have been able to get back with my daughter and have this relationship I have with these two little boys."
Another positive that's risen out of her darkest days is Britney's new album, which she expects to hit stores in six to nine months. "I think it is more urban," she tells OK!. "I'm writing every day, right here at the piano in this living room... This is my best work ever."
For the complete interview and exclusive at-home photos of Britney and her boys, pick up the new issue of OK! — on sale everywhere Thursday!