COUPLES
Anna Nicole Smith Remembered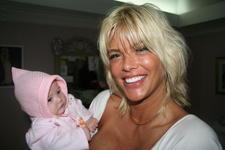 From high school dropout to high fashion model — vivacious and unpredictable Anna Nicole Smith will be remembered forever both for her great beauty and her outrageous life story.
The Houston, Texas, native was born Vickie Lynn Hogan on Nov. 28, 1967, to parents Donald and Virgie Mae. The child of a broken home — her parents divorced only weeks before little Vickie's second birthday, the future model and actress quit high school during her sophomore year and found work as a waitress at Jim's Krispy Fried Chicken in the small Texas town of Mexia. By the age of 17, she'd gotten married to 16-year-old co-worker Billy Wayne Smith and less than a year later she gave birth to son Daniel.
Article continues below advertisement
Vickie and Billy separated after three years together and the young beauty then worked a succession of odd jobs, including a gig as an exotic dancer that would introduce her to her second husband, Texas billionaire J. Howard Marshall. On a whim, the 24-year-old answeried a call for models for Playboy — a decision that changed her life forever.
Within a year Vickie Smith, single mom, had become Anna Nicole, global sensation. In addition to being named Playboy's Playmate of the Year for 1993, Anna was selected to be the face — and body — of Guess Jeans, who made the most of the model's resemblance to iconic actress Marilyn Monroe. "I just love her," Anna Nicole told Larry King about the tragic screen legend. "I just completely feel what she went through."
As her star began to soar, Anna Nicole married her billionaire beau. Sadly, after only 13 months of marriage, Marshall died in August of 1995 at the age of 90. Her husband's passing prompted a legal battle between Smith and Marshall's family over his $1.6 billion estate that continues to this day.
Riding her modeling fame onto the silver screen, Anna soon began making cameo appearances in films like Naked Gun 33-1/3 and the Coen Brothers' The Hudsucker Proxy. However, unable to overcome her sexpot public image, Anna's starring roles were often in low-budget action thrillers that exploited her most obvious physical assets.
Article continues below advertisement
In 2002, Anna was once again on the pop culture A-list with her campy, self-titled reality show on E!. Soon after the show became a hit, a slimmed-down Anna was selected to be the spokesperson for diet supplement Trimspa.
As happens in Hollywood, the success of The Anna Nicole Show was huge but short-lived and the show was cancelled in Feb. 2004. In the years that followed, Anna's public appearances became fewer and fewer.
Anna, who had not announced publicly that she was pregnant, surprised the world on Sept. 7, 2006, when she announced on her web site that she'd given birth to a daughter named Dannielynn in the Bahamas. However, Anna's joy was cut tragically short when her son Daniel passed away while visiting Anna and his new sister in the hospital.
Still reeling from the overwhelming grief, Anna Nicole exchanged vows in a non-binding commitment ceremony with former lawyer and constant companion Howard K. Stern on Sept. 28, 2006. Anna also initially claimed that Howard was the father of her newborn daughter, giving her the full name of Dannielynn Hope Marshall Stern. Meanwhile, Anna's former boyfriend, photographer Larry Birkhead, came forward to say that he believed he was Dannielynn's father, setting off a lengthy paternity claim and custody battle.
Article continues below advertisement
In the midst of this legal maelstrom, Anna Nicole's life took one final, tragic turn on Feb. 8, 2007, when she was discovered unreponsive in her Hollywood, Fla., hotel room. The model and mother had died at the age of 39 after ingesting a lethal combination of prescription medications.
In the months following Anna's untimely passing, the often-bitter custody battle between Larry and Howard threatened to overshadow the life of the unfortunate woman at the center of the case. Ultimately, DNA tests proved Larry to be the father of young Dannielynn and he has since made peace with Howard.
Said Birkhead, after her death, "Chance brought us together, our love couldn't keep us apart. We loved, we laughed, we shared a connection that couldn't be broken, regardless of the challenges. I loved her in life and I will love her long after."