COUPLES
Are They or Aren't They? Pam & Rick Fuel Wedding Whispers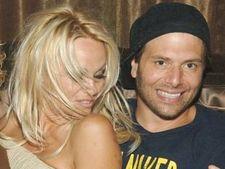 The Internet was abuzz this weekend with rumor, speculation, "reports" and denials surrounding possible nuptials between Pam Anderson and Rick Salomon, the man most famous for starring in and filming the infamous Paris Hilton sex tape, One Night in Paris. (Oh yeah... he also used to be married to Shannen Doherty too.)
Sunday morning found online rumor mills claiming that the 40-year-old Baywatch babe—who recently spent a total of less than four months married to Kid Rock—and Rick were wed on Saturday in Sin City. However, as the day proceeded, it became clear that no official ceremony had occurred. "She's not married," was the terse denial from Pam's rep to OK!.
Article continues below advertisement
Pam has a history of quickie, on-the-fly weddings, and TMZ.com is reporting that the pair did indeed apply for, and were granted, a marriage license on Saturday in Las Vegas, where Pam has been reviving her career as a showgirl assistant to illusionist Hans Klok. When it came time for "I Do," one source close to Pam tells OK!, there was a case of cold feet. "In the end, they decided to not go through with it right away," the source explains. "So they just flew back to L.A. to think things over."
The pair were photographed walking along the beach in Malibu on Sunday morning — no wedding rings visible.