COUPLES
Beth Ostrosky Prepares For Stern Wedding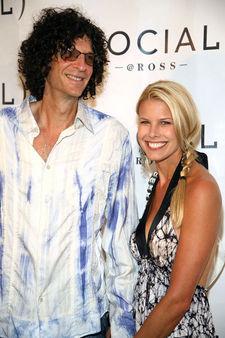 Beth Ostrosky couldn't be busier. The North Shore Animal League spokesperson is gearing up to run the 26.2 mile NYC marathon November 2 – and she's prepping for her marriage to Howard Stern.
Beth's goal is to raise $262,000 for the North Shore Animal League, and her soon-to-be hubby is beside her almost every step of the way.
In this interview, Beth, 36, talks about how Howard helps her train for the marathon and her bulldog Bianca Romijn-Stamos-O'Connell being a bridesmaid in their wedding.
Article continues below advertisement
How are you today?
I'm good! I'm really good. I've just been running my butt off. Howard and I just finished a six-mile run. Oh gosh, with this marathon training I'm doing, it's six days a week. Every day is a challenge, and I'm exhausted all the time.
I'm trying to do my last-minute things for my wedding, and the running has taken over my whole life, but it's all good.
That's great that he runs with you.
Oh yeah, he does a lot of the training on the weekends with me. I'm so lucky because he makes the runs so much fun. During the week, I have 18 mile runs, but it's all worthwhile when I think that I'm raising so much money for the North Shore Aninal League. I'm up to already over $200,000, which I'm really excited about.
What does he do to make it fun?
He talks the whole time, and he makes the runs go quickly for me. He's being Howard as we're running along, and it definitely makes it easier to get the mileage in when I have him next to me.
Article continues below advertisement
Why is this cause important to you?
It's the North Shore Animal League, and I've been spokesperson for the last two years. We just promote adopting from your local shelters. Adopting animals is so near and dear to my heart, and something I've always done. Growing up, my parents would take us to our local shelter to get all of our pets. I've been to the facility and I volunteer my time for the North Shore Animal League in Port Washington. It's just so incredible in their efforts and they're rehabilitating animals. They're taking care of them. There's an adult dog section, there's a cat house, there's a puppy area. There's
a foster care unit. It's just absolutely incredible, what they do.
How have pets changed your life?
Oh gosh, Howard and I have a 52-lb. English bulldog, Bianca Romijn-Stamos-O'Connell. That's her full name. She's just the light of our lives. I think any animal in a person's home lights it up and warms it even more. Animals are just so special, and she's the best thing in our lives. She's absolutely the best thing in our lives.
Article continues below advertisement
How do you like to spoil her?
Bianca is a princess. She gets all the love in the world. No matter what we're doing, where we are, if she's in front of us, and she needs love, we'll stop whatever we're doing and she gets it. She knows she has all of our attention whenever she wants it.
Could you share a cute story about your dog?
Bianca was just on The Tyra Banks Show with me recently. She was so cute. She warmed the whole audience. She parades out onstage in her bridesmaid's dress that she is wearing to her wedding. It was the cutest thing ever. She's just a bundle of love, and she has no worries in the world. She makes us laugh. She snores and she does everything without any worry or embarrassment. She just provides so much laughter to us.
Wait … she's going to be in your wedding?
I have no bridesmaids except for my bulldog. She's the sole bridesmaid. She's the one constant woman in my life that should be there. I feel like Howard and I gave birth to her because she's so much a part of us and our relationship that she needs to be there and she needs to represent the bridesmaids.
How was your bachelorette party?
Oh my gosh, my friend Jane threw a surprise dinner. We were having our girly dinner at Nobu and it ended up being a group of six girlfriends – my six, close girlfriends – and it was so fantastic. It was a complete surprise. Balloons, cake, cookies and beautiful presents and then they took me out to a couple of clubs. The conversation got a little raunchy, but we didn't have any party favors that were dirty. It was definitely a fun night, definitely a night that I wasn't expecting. I came home at 4am in the morning, I couldn't even believe it.
Beth will tie the knot with Howard Stern in the coming weeks. She will also run the New York City Marathon on November 2, donating proceeds to the North Shore Animal League.