COUPLES
Beyonce Reveals Wedding Details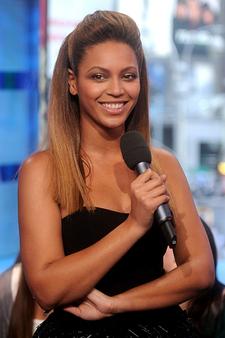 Beyonce Knowles and her rap-star hubby Jay-Z are one of Hollywood's rare couples that prefer not to parade their romance around for the press.
So when the two in front of a celebrity guest list that included Gwyneth Paltrow and Coldplay's Chris Martin, the couple-- not surprisingly-- managed to keep the press guessing when they exchanged vows atop a NYC apartment building.
Article continues below advertisement
But if anyone can get a blushing bride to spill, it's the queen of media herself, Oprah Winfrey. On Thursday's show to promote her new album, I Am Sasha Fierce, Beyonce finally revealed a few sparse details about her wedding day.
"It was very private, and I can say outside it was paparazzi and it was madness, and inside it was really beautiful," Beyonce told Oprah, adding that it's taken her a while to realize the value of keeping her personal life her own.
"I had to really learn how to have boundaries and how to have balance," she said. "It's something that I have never really talked about, and I still feel like it was difficult--and it still is--because I'm so excited about it. But it's important that I keep things that are pure and real in perspective and I keep it separate from my performance life."
Beyonce told Oprah it feels great to be married but added that it's also important to make a committment to yourself before walking down the aisle.
Article continues below advertisement
"Make sure you have your own life before you're someone else's wife," she said.
Meanwhile, Beyonce tells Seventeen Magazine's Dec./Jan. issue that she consciously waited until she was of a certain age to get married. "Before the age of 25 I would never get married," the singer, now 27, says. "I feel like you have to get to know yourself, know what you want, spend some time by yourself and be proud of who you are before you can share that with someody else."
She adds, I really don't believe that you will love the same thing when you're 20 as you do at 30."