COUPLES
OK! Exclusive: Ciara Dishes On Life With Russell Wilson, Training 'Like A Zombie' For That Post-Baby Body And More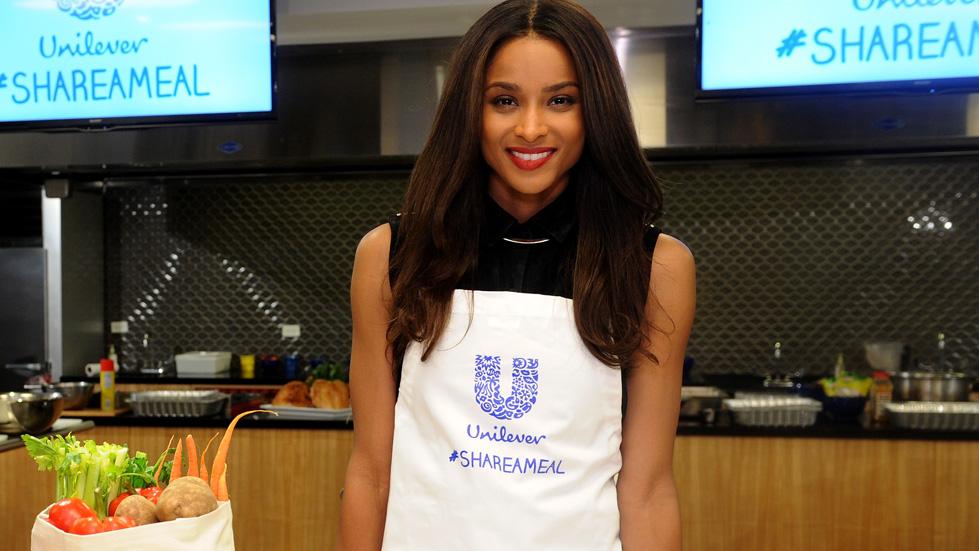 Ciara is certainly at the top of her game these days! Balancing not only her career, but also motherhood and her blossoming relationship with Russell Wilson, the singer has joined with Unilever to help fight child hunger, just in time for the holiday season. She spoke exclusively with OK! about the campaign, while also dishing on her son, Future Zahir, that post-baby body, and how she and the NFL star keep their relationship strong as ever.
Article continues below advertisement
The beauty, who just returned from a romantic vacation in Mexico with Russell and her 18-month-old son, admits the key to their successful relationship is communication. "I think anything in life is about balance," the I Bet singer said. "We communicate and we make the time for each other and I think that's just key in any relationship."
She continued, "So that's our goal and so we stick to it and that's pretty much how it all works out." She makes it sound so simple!
Another thing Ciara makes seem simple is getting one's pre-baby body back. The new mom is giving us major body envy these days after getting back in shape following the birth of her adorable son. But it sounds like her workout plan was way too intense for most people to handle!
"I trained like a zombie honestly. I trained probably three times a day because I lost like 60 pounds in three months basically," Ciara admits.
Article continues below advertisement
After training with celeb fitness expert Gunnar Peterson, Ciara said it was mostly her focus that led her to reach her goals, and while she makes it sound easy, she was quick to reveal that it was quite the opposite.
"It was really hard though. It was the most challenging training process I've ever had in my life. Gaining 60 pounds is a lot, and trying to lose it in such short time is also very, very challenging. But I was like 'game on let's do it' because I had work to do so I had no choice," she said.
In addition to being a top R&B star, CiCi is also linked to one of the top football players in the NFL, and while both have enviable bodies, it sounds like Russell is the one who puts more time in the gym—at least these days.
"Right now him," she said. "He definitely takes a lot more beating to the body that I do and probably ever will…His training is way more demanding I think in its own unique way than it is for me, even though I try to jump off things and do all kinds of crazy stuff. It's a lot what the guys do on the field, so he probably will always be winning in that department," she continued.
Article continues below advertisement
Meanwhile, Ciara is certainly loving motherhood, which in part is why she has partnered with Unilever and Feeding America to "Share a Meal" in an effort to end child hunger.
She gushed, "I'm very blessed that my son is very, very mild tempered. He's very calm, he's very easygoing and doesn't cry much, only when it time to go to bed if he doesn't want to." Ciara added that when he doesn't want to go to bed, she sings to him! How cute?!
And with the holiday season approaching, Ciara wants to be a shining light in other children's lives as well, and her mission is simple, to share a meal. "Being a mom and having a child, I can't imagine what it would be like to know that my child couldn't have a meal on Thanksgiving, or just couldn't have a meal when they wake up," she said. "So it really spoke to my heart, and also knowing that I can use my platform that speaks to millions and billions of people to actually make a difference and help in child hunger—it's very powerful." We couldn't agree more!
Share your thoughts on Ciara's exclusive interview with OK! in the comments section below.