COUPLES
Denied: No June Wedding for Depp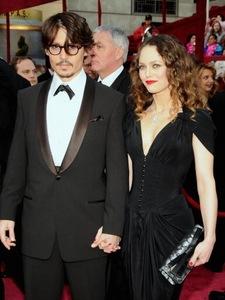 Once again, the internet is rife with rumors that actor Johnny Depp is set to wed long-time girlfriend, French actress Vanessa Paradis. This time, reports say that the camera-friendly couple are planning to tie the knot at the house of actress Sandra Bullock on quiet Tybee Island, near Savannah, GA.
However, like all the previous wedding rumors surrounding Johnny and Vanessa, this appears to be just wishful thinking. "There is no truth to these rumors," Depp's publicist Robin Baum tells OK!.
Article continues below advertisement
The couple, who began their relationship in 1998, when Johnny was filming The Ninth Gate in Paris, have two children, a daughter Lily-Rose, 9, and a 6-year-old son, Jack. Before his rise to stardom, Depp had been married to makeup artist Lori Anne Allison for three years.