COUPLES
Dexter Co-Stars Elope!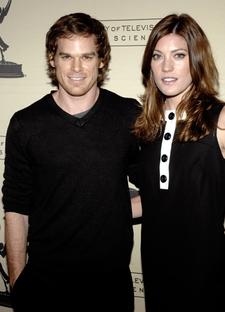 They play brother and sister on Showtime's Dexter, and barely anyone even knew they were dating, but now Michael C. Hall and Jennifer Carpenter are playing husband and wife.
The co-stars eloped on New Year's Eve, according to Michael's spokesman, Craig Bankey. Apparently the twosome have been a couple for some time now, secretly dating for a year and a half.
And now the newlyweds are set to debut their relationship in a big way – by walking the red carpet together at Sunday's Golden Globe Awards.
Article continues below advertisement
Way to start out the New Year off right!