COUPLES
Did Bruce Willis Have Casting Call to Meet Wife?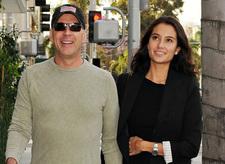 It's always been a bit unclear as to how <a href="https://okmagazine.com/search/willis" target="_blank"><strong>Bruce Willis</strong></a> met his <a href="http://www.okmagazine.com/news/view/12698/Bruce-Willis%27-Tropical-Wedding" target="_blank">new wife</a>, model Emma Heming. Reps for the actor have said the pair have mutual friends, but a new story has a slightly wilder tale to tell.
A story from Wednesday morning's NY Post alleges that the Die Hard superstar actually met the 30-year-old beauty when he was casting for lovely ladies to star in his 2007 erotic techno-thriller flop Perfect Stranger.
Article continues below advertisement
"He personally went through head shots and when the girls were called in to 'read,' he was there in the meeting," the Post quotes a source as saying. "It was odd for the star of a movie to do so, but at the time he was single and I guess he needed a date."
Though he didn't begin dating Heming right away (that honor went to another actress, Tamara Feldman), she did score a minor role in the movie. The story claims that Willis eventually began dating both Emma and Tamara until he ultimately made his choice. Not surprisingly, Bruce's rep had nothing to say on the claims made by the newspaper.
MORE PICS OF BRUCE & EMMA:
<a href="http://www.okmagazine.com/pixandvids/gallery/12800/1" target="_blank"><img src="https://d-images.okmagazine.com/img/photos/large/24223.gif" width="74" height="100"/></a> <a href="http://www.okmagazine.com/pixandvids/gallery/12800/2" target="_blank"><img src="https://d-images.okmagazine.com/img/photos/large/24222.gif" width="74" height="100"/></a> <a href="http://www.okmagazine.com/pixandvids/gallery/12800/3" target="_blank"><img src="https://d-images.okmagazine.com/img/photos/large/24221.gif" width="74" height="100"/></a> <a href="http://www.okmagazine.com/pixandvids/gallery/12800/4" target="_blank"><img src="https://d-images.okmagazine.com/img/photos/large/24220.gif" width="74" height="100"/></a>