COUPLES
Emergency Surgery for Jade Goody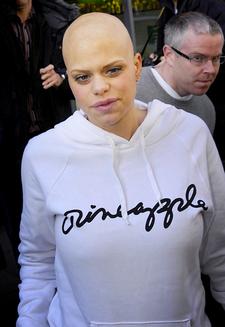 There's more drama in the story that is gripping Britain.
Terminally ill star Jade Goody was rushed to hospital last night for emergency surgery.
The newly wed TV personality -- who is dying of cancer -- had been in agonising pain over the weekend because of an obstruction in her intestines.
At around 5pm on Sunday, the mother of two was taken by ambulance from her hospice to a hospital where she was due to have the operation either last night or this morning.
Article continues below advertisement
"She is in so much pain," said British super-publicist Mr Clifford after she had been transfered to the Royal Marsden hospital in London.
"When I spoke to her she was sobbing. She is putting on a brave face but she is very frightened and keeps ­asking me why she is in so much pain. She is very upset.
"They have not been able to get the pain under control at the hospice so they have decided to take her to the Marsden and the likelihood is that she will need further surgery.
"She wants to go home. She doesn't want to be in hospital."
Doctors have told Jade -- who rose to fame after appearing on reality show Big Brother -- she has just weeks to live.
The ­cervical cancer that she has been fighting since last year spread to her liver, groin and bowel.