COUPLES
Fringe Stars Tie the Knot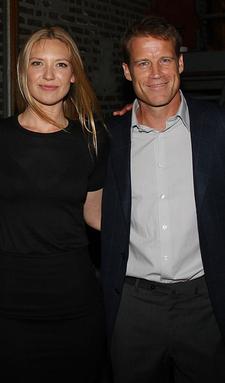 The new trend these days? Secretly marry the co-star no one knew you were dating and tell everyone later. First, Dexter stars Michael C. Hall and Jennifer Carpenter eloped, and now Fringe cast members Anna Torv and Mark Valley have confirmed to E! News that they were secretly married.
Although a rep for Anna wouldn't offer many details, the two were married over the holidays after quietly dating for "several months."
Article continues below advertisement
On the show the twosome play ex-partners and lovers. Mark's character dies in an ooey-gooey sticky way (you've got to watch it to get it) but comes back to Anna's character via hallucinations.
Their relationship was so secret, Mark pulled a fast one on the press on Thursday by talking about his new bride on a conference call, without anyone ending up the wiser.
"I think Anna is just a fantastic actor and I really like working with her," he said. "She's my favorite on the show, to be honest with you."