COUPLES
The Future Looks Blake For Amy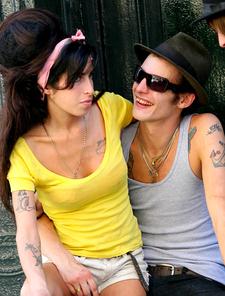 Oh Amy -- say it ain't so!
Those of us hoping to see Amy Winehouse get her life back together had a lot to be optimistic about recently.
The singer had been taking a long vacation in the Caribbean, was looking healthy (and clean!) and was said to be beating her longstanding addictions to crack and heroin.
And best of all she seemed to have left her jailbird husband Blake Fielder Civil behind and found herself a handsome, clean cut guy.
Article continues below advertisement
But a terrible report from the UK today says that the Rehab star is heading back home to try and save her dead loss of a marriage now that Blake is out of prison.
Blake Formerly Incarcerated had, claiming Amy was cheating on him while he was doing time.
But yesterday Blake was insisting that they are giving it another shot, according to Britain's TheSun.co.uk.
"Hearing Blake was out brought lots of emotions back for Amy," the site quotes a friend of the singer as saying.
"She feels like she was the last to know he was getting released and that hurt. She is desperate to see him again and wants to work things out. She still loves him."